In the Taimyr Autonomous Okrug (AO) hydrocarbon production began with the development of the Messoyakhskoye gas field in the late 60s and was completely oriented toward providing the Norilsk mining and smelting works (now the Norilsky Kombinat Joint-Stock Company) with gas. Presently, major volumes of gas are produced from the N.Soleninskoye and S.Soleninskoye fields (included in balance sheets of the Yamal-Nenets AO) while production from the Messoyakhskoye field is small-scale and seasonal. Depletion of reserves ranges from 40 to 80%. Top gas production (5.3 billion m3) was achieved in 1986 and now fell by 30% because of a setback in production at the works. Presently, diesel fuel accounts for 35%, aviation fuel for 27%, fuel oil for 17% (a half is bunker fuel) and gasoline for 12% of total oil products consumed in the okrug. Nearly 20-25,000 t of gasoline and diesel fuel are produced from condensate co-produced with gas.
The bulk of oil products (about 350,000 t a year) are delivered during the shipping season by river transport along the Yenisei from Krasnoyarsk and by sea transport from Murmansk. This requires building of storages for seasonal, reserve and emergency stocks reaching 50% of average annual demand for certain oil products. With a growth of prices on oil products, increase in transportation rates and expenses on storage, provision of the okrug with oil products needs huge investment, which in 2000, for example, came to over $100 million. Maximum self-provision with oil products is obviously one of the most important lines of economic development of the okrug taking into account steadily reducing reliability of Northern deliveries.
RESOURCE BASE



The territory of the okrug comprises the western part of the Khatangsko-Vilyuiskaya, northern and north-eastern parts of the Leno-Tungusskaya and W.Siberian petroliferous provinces (PP), respectively. In the provinces and a neighboring area of the Yamal-Nenets AO 16 fields are discovered. Reserves of 12 of the fields (including 8 gas and 2 gas-condensate fields and 1 gas-and-oil field and 1 oil field) are placed on balance sheets. The developed fields are the Pelyatkinskoye and Deryabinskoye gas-condensate and Suzunskoye gas-and-oil fields, the Paiyakhskoye oil field is under exploration, the rest are closed down temporarily (Fig. 1). The Pelyatkinskoye field is the largest. It is a home to over 60% of the okrug's total gas and condensate reserves. The Deryabinskoye field is of a medium scale. The rest are relatively small gas fields. The bulk of proved (category A+B+C1) oil reserves are confined to the large Suzunskoye gas-and-oil field (98%), preliminary appraised (category C2) reserves to the medium Paiyakhskoye oil field (88%). The fund of revealed structures includes 7 objects, 27 objects are prepared for prospect drilling. Promising recoverable resources (C3) of the objects are estimated at 957 million t of standard fuel, including 546 million t of oil, 407 billion m3 of gas and 4 million t of condensate. By estimates of SNIIGGiMS, as of 01.01.98, initial geological and recoverable resources of hydrocarbons in the okrug are 21.0 and 14.7 billion t of standard fuel, respectively (Table 1).
The extent of development of hydrocarbon resources is 0.07%, exploration maturity is 2.9% (3.8% of oil, 2.8% of gas and 2.0% of condensate resources). Thus, there are great good prospects for the development of the mineral resource base (MRB) in the okrug.
PRODUCTION FORECAST
An analysis of the state of the hydrocarbon resource base allows to distinguish three stages of its development. At the first stage the evaluation of production volumes is based on proved and preliminary appraised reserves and partially promising resources. At the second stage a share of promising resources increases and forecast resources (D1+D2) are partially introduced into production. At the third stage only forecast resources are developed. Resources are transferred to commercial reserves using a number of coefficients (the rate of verification of the structural plan, availability probability of collectors and caps, efficiency probability of traps, etc.). The largest estimated oil and gas reserves are concentrated in the Yenisei-Khatangskaya (47 and 76%, respectively) and N.Tungusskaya (28 and 18%) petroliferous regions (PR). Regions characterized by the greatest density of estimated oil reserves are: Anabaro-Khatangskaya (4.7 thousand t/km2),
N.Tungusskaya (3.0) and Pur-Tazovskaya (1.7), gas reserves (million m3/km2) – Yenisei-Khatangskaya (17.6), N.Tungusskaya (14.0) and Pur-Tazovskaya (7.2). Top annual production of hydrocarbons in oil and gas producing regions is achieved as a rule after 32.5% of initial reserves of a reservoir or field has been recovered. Top production in different regions ranges between 2.5 and 8.4% and averages 4.0-5.0% of total reserves. The practice of development of oil and gas resources in the Ural-Volga Region and Western Siberia shows that actual maximum annual production comes to about a half of an estimated one. These provisions have been taken as the basis for determining possible oil and gas production in the okrug (Fig. 2).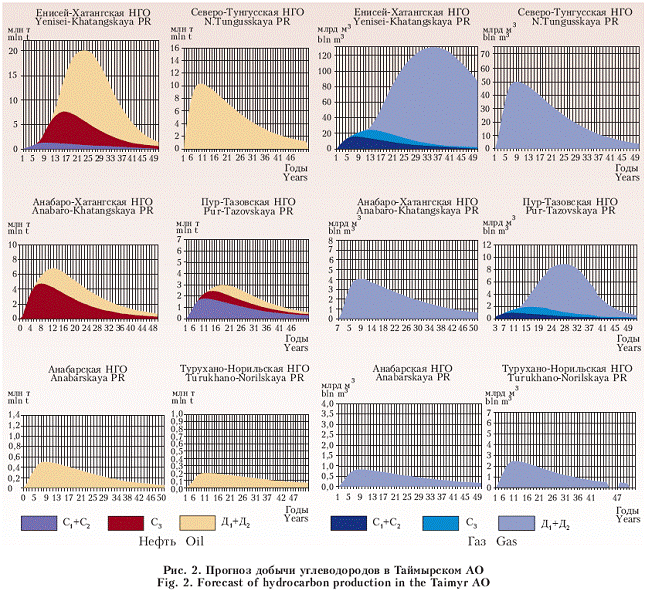 Dynamics of raising of oil production at each stage is as follows. At the first stage production will come to 4.7 million t a year with 65% produced from reserves and 35% from category C3 resources. Of that amount 2.6 million t will be produced in the Yenisei-Khatangskaya PR and 2.1 million t in the Pur-Tazovskaya PR. At the second stage production will rise to 22.4 million t a year. The structure of its sources will change: 53% of oil will be produced from category C3 resources, 35% from category D1+D2 resources and only 12% from proven reserves. Besides increase in production to 14.3 million t in the Yenisei-Khatangskaya PR and 2.7 million t in the Pur-Tazovskaya PR, largest increment of production (5.4 million t a year) will be obtained from resources of the Anabaro-Khatangskaya PR. Top production at the longest final stage is estimated at 39.8 million t a year. By the time it is achieved oil resources of the whole okrug will be put into development. The bulk (74%) of forecast production will be recovered from category D1+D2 resources, 21% from category C3 resources and below 5% from remaining reserves of discovered fields. Major production will remain in the Yenisei-Khatangskaya PR. Gas production at the first stage will be 18.6 billion m3 a year, with 95% recovered from reserves and 5% from promising resources. 17.3 billion m3 will be produced in the Yenisei-Khatangskaya PR and 1.3 billion m3 in the Pur-Tazovskaya PR. At the second stage gas production will grow to 44.4 billion m3 a year with reserves ensuring 26%, promising resources 29% and expected resources put into development 45% of production. At the third stage production will reach 195 billion m3 a year of gas with 97% of it being ensured by expected resources. The Yenisei-Khatangskaya PR will account for over 66%, N.Tungusskaya for 26% and each of the rest PR for 1-3% of total production. In addition to producing fields, fields that are to be developed at the first stage are the Pelyatkinskoye and Deryabinskoye gas-condensate and Suzunskoye gas-and-oil fields prepared for commercial development and the Paiyakhskoye oil field being under exploration. Gas production from the Messoyakhskoye and N. And S.Soleninskoye fields has reached it final stage. According to Norilskgazprom's data, it will fall to 2.4 billion m3 by 2005 and to 1.1 billion m3 by 2010. Condensate is produced only from the N. and S.Soleninskoye fields, however, the current content of stable condensate in gases has reached the threshold of economical recovery.
The Pelyatkinskoye gas-condensate field with an increased content of condensate in gas (104.9 g/m3) should become a major gas and condensate source in the okrug. Two variants of efficiency of field production by depletion drive were analyzed: gas production reaches 4.6 billion m3 (variant I) and 6.9 billion m3 (variant II) by 2010. Besides, the method of field development using the seasonal cycling-process, i.e. pumping of a part of stripped residue gas into a reservoir (variant III), was appraised. The technological goal in this case was the achievement of the maximum final condensate recovery. To make the results comparable, it was assumed that the yield of tank gas in variants II and III is equal.
By 2010, the current condensate recovery factor will be 0.17 under the first variant of field development, 0.21 under the second variant and 0.35 under the third one. Field development under variants I, II and III requires $200, 300 and 360 million of capital investments, respectively. The gas and condensate production cost will be $6.8/1,000 m3 and $13.6/t; 8.1 and 16.3; 8.2 and 12.2, respectively.
Another large promising source of gas is the Deryabinskoye field with initial condensate content of gas being 100.8 g/m3. Field production by depletion drive with recovery of 2.4-2.5 billion m3 a year of gas and 140-150,000 t a year of condensate will require $130-150 million. The gas and condensate production cost will be $8-9/1,000 m3 and $36-37/t, respectively. The field will be most probably put into operation after 2010. The major oil prospect in the okrug is the Suzunskoye gas-condensate field. Oil production from the field should be accompanied with gas recovery. During the first five years oil will be produced by the free-flow method and then by the pumping one. The system of oil gathering, treatment and transport is traditional for Western Siberia. Oil may be transported outside the okrug to Dudinka and through the West-Siberian oil pipeline network. A terminal in Yenisei Bay and oil pipeline to it may be built for oil transportation via the Northern Sea Route. The development of the Suzunskoye field will require over $90 million of capital investments. The Paiyakhskoye field is located in a remote area with extremely grave natural-climatic conditions. With oil production of 1.5-2.0 million t a year, its development will need investment of $1.0-1.5 billion. The oil production cost is expected to be $46/t. The field will be put into operation after 2010.
Forecast of production from promising and expected resources was based on "estimated reserves" and average annual recovery of hydrocarbons. The maximum annual rate of recovery was assumed to be 4% of estimated recoverable oil reserves and 5% of gas ones. Relative capital investments in the development of promising and expected oil and gas resources were assumed to be from $2.3 to 2.8 million and from 2.2 to 2.7 million per well, respectively. Calculations show that maximum production from resources will come to 38 million t a year of oil and 190 billion m3 of gas. The development of promising and expected hydrocarbon resources on the whole will require over $100 billion. The oil production cost will range between $120 and 260/t, gas production cost between $15 and 28/1,000 m3 depending on a region.
SCENARIOS OF RESOURCES DEVELOPMENT
When developing scenarios of hydrocarbon resources production, the major strategic goal was the maximum self-sufficiency of the okrug in gas fuel and major oil products. Gas fuel requirements will be determined by development prospects of the Norilsky Kombinat. By 2010, they will come to 5-7 billion m3 and will be satisfied through putting into production of only the Pelyatkinskoye field. Movements of wholesale prices on gas will be as follows, $/1,000 m3: 12.5 in 2001; 13.9 under variant I and 14.4 under variants II and III in 2005; 12.3 under variant I and 12.5 under variants II and III in 2010. During the period under consideration (until 2010), production of liquid hydrocarbons will be ensured due to condensate recovery from the Pelyatkinskoye field and oil from Suzunskoye. At first oil from the Suzunskoye field may be delivered to the Achinsky or other refineries using the existing transport infrastructure to the maximum. As it has been noted above, up to 350,000 t a year of oil products are delivered to the okrug by tankers. Their loading with oil, condensate or their mixtures on the way back will considerably reduce the cost of northern deliveries of combustive-lubricating materials. It is technologically possible to ship up to 100,000 t a year of mixture in oil tankers by dry cargo ships. Mixing of condensate and oil will enable to pump them via the condensate pipeline from fields of Norilskgazprom to
loading terminals in Dudinka. Taimyr oil and condensate due to their composition and physical properties are amenable to
production of the whole range of oil products (Table 2).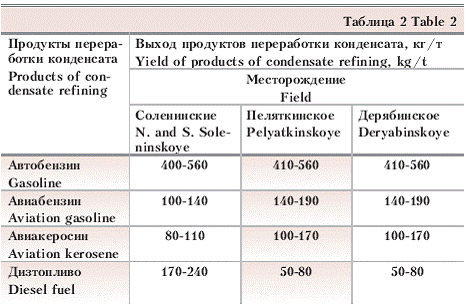 Тwo variants of Taimyr oil refining are considered. The first one calls for the maximum yield of products suitable for local needs, the second is oriented toward products intended for realization outside the okrug (Table 3).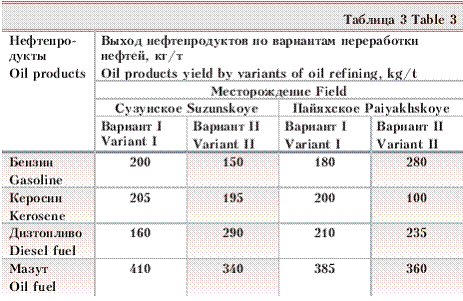 For obtaining high-octane gasoline from Suzunskaya oil it is necessary to use lead tetraethyl. For production of winter-grade diesel fuel paraffin should be removed from oil just as bitumen and paraffin should be removed from fuel oil for its use during the winter period. Despite high calorific power, fuel oil produced from Paiyakhskaya oil will most probably contain above 2% of sulfur. To reduce sulfur concentration during production of bunker fuels its necessary to add heavy diesel fuel. Of all domestic and foreign projects of small-tonnage refinery plants (STRP) the Omsky project is the most preferable for Taimyr. It has the best operating characteristics: expenditures for refining of 1 t of oil and condensate will come to $5.5 and $5.0, respectively. Minimal reasonable sale prices are estimated at $17.5/t of Suzunskaya oil and $40.4/t of Paiyakhskaya oil. Condensate prices will be $18.8/t for the Pelyatkinskoye field and $31.5/t for the Deryabinskoye field. The cost of refining of local hydrocarbons using the Omsky project of the STRP is as follows, $/t: 27.6 for Suzunskaya oil; 55.1 for Paiyakhskaya oil; 28.6 and 43.8 for Pelyatkinsky and Deryabinsky condensate, respectively. This is 1.5-2.0 times below average Russian costs.
Taimyr liquid hydrocarbons are technologically amenable to the use for various purposes: from transportation of crude oil via West-Siberian oil pipelines to their refining on STRP near producing areas or small refineries. Combinations of these variants are also possible (Fig. 3).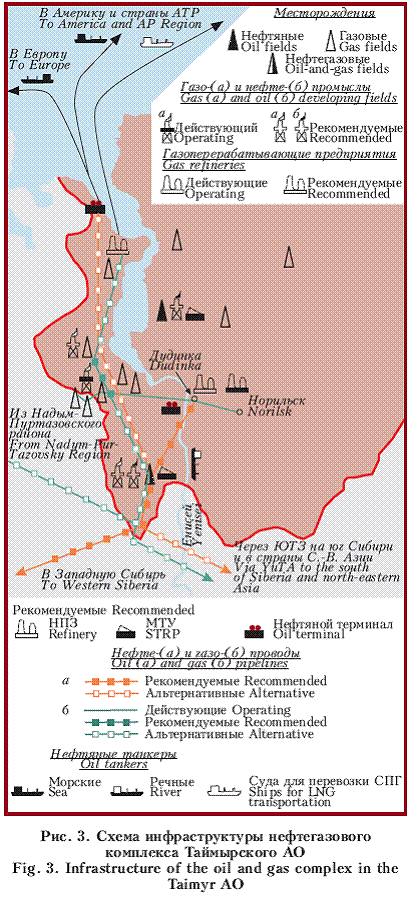 According to some experts' opinions, joint development of fields in the Bolshekhetsky petroliferous Region (Vankorskoye, Lodochnoye and Tagulskoye) and delivery of produced oil together with Suzunskaya oil to the west is most preferable. However, crude oil prices on the Russian petroleum market are 30-40% below world prices while prices on oil products come near to world ones. In this connection the bulk of receipts will be accumulated not in the producing industry but in petroleum refining, and it is more profitable to deliver oil products outside of the okrug than crude. The variant of selling crude "abroad" only during the period of building of a small refinery (near Dudinka) and the use of a part of receipts from crude sales for financing of its building is tactically more reasonable.
Building of STRP in oil producing areas has even more advantages over the variant of crude oil sale. The plants will enable to ensure the okrug's self-sufficiency in oil products in the shortest possible time and reduce its dependence on external seasonal deliveries. Besides, STRP have flexible technological schemes, their capacities may be built up by blocks, and they are attractive for investors because of their relatively low cost and short pay-off period. However, production of fuels corresponding to state standards requires blending of straight run products and those obtained during secondary refining processes. It is difficult to solve this problem on STRP. Improvement of fuel grade is possible through expansion of the technological process by the following stages: atmospheric refining, catalytic upgrading of gasoline, refining of residues and production of liquefied gases. Nevertheless, STRP are not alternatives to stationary complex refineries. This is why building of a small refinery at the minimum seems to be most optimal when its technological scheme permits to make petroleum refining more complete as the capacity of a refinery increases. Table 4 shows volumes and a range of oil products that will be produced after the Pelyatkinskoye and Suzunskoye fields are put into development.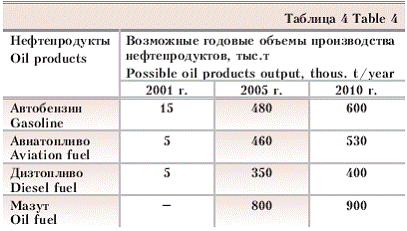 By 2005, refining of only Pelyatkinsky condensate will allow to meet the okrug's needs in gasoline in full, 40-45% of its needs in aviation fuel, and almost 25% in diesel fuel. Provision of the okrug with aviation and diesel fuel will grow to 75% and 40%, respectively, by 2010. In this connection it is advisable to refine oil from the Suzunskoye field on the 2.5-2.7 million t a year Dudinsky refinery recommended for building using the scheme of not complete refining with the maximal yield of arctic- and winter-grade diesel fuels and bunker fuel. Refining of all liquid hydrocarbons produced will several times exceed the okrug's oil products requirements. This is why it is expedient to export excess crude oil outside of the okrug. Gas transportation will be determined by the purposes of the use. Delivery of Pelyatkinsky gas to local consumers will require construction of an additional line in the Messoyakha – Norilsk gas pipeline network. Liquefied natural gas (LNG) may be exported outside of the okrug by sea tankers. To achieve maximal forecast production of hydrocarbons, 300 million t of commercial oil reserves and 2.5 trillion m3 of commercial gas reserves should be prepared. This will require
drilling of 3.8 million m of exploratory wells and $5.7 billion of investments.
***
The optimal strategy of hydrocarbon resources development in the Taimyr AO is as follows. During the period until 2010, the development of the Taimyr oil and gas complex will be oriented toward meeting the okrug's requirements. After 2010, it is associated with two more directions: the realization of the Federal program for the revival of the merchant navy of ussia, including the recovery of the activity of the Northern Sea Route; deliveries of Taimyr crude hydrocarbons to world markets. Presently, further development of the Northern Sea Route is associated with the transition to the all-the-year-round navigation and international use. The Northern Sea Route should become one of the elements of the global transport network as a new transit route will be opened from Europe to America and Asia-Pacific countries. This will increase the significance of Taimyr oil resources, speed up the development of the Paiyakhskoye field and consequently
facilitate local production of bunker fuels. Orientation of Taimyr crude hydrocarbons toward world markets will promote more intensive development of oil and gas resources in the autonomous okrug. Oil and gas may be exported through new oil and gas pipeline systems via the Yurubcheno-Tokhomskaya oil-and-gas accumulation area (YuTA) to Irkutsk and then to Asia-Pacific markets and first of all in north-eastern Asia, oil, oil products and liquefied gas – through the Northern Sea
Route to the European energy market and markets in America and Asia-Pacific countries (see Fig. 3).
Thus, the development of the hydrocarbon resource base in the Taimyr AO will not only contribute to its economic development, but also realization of Russia's geopolitical interests.