Eskişehir (Turkey), June 13 - Neftegaz.RU. TANAP started operations on June 12 at a grand inauguration ceremony. President Recep Erdoğan, Azerbaijan President İlham Aliyev, Serbian President Aleksandar Vucic, Ukrainian President Petro Poroshenko and President Mustafa Akıncı of Northern Cyprus (TRNC) were present at the event along with energy ministers and the project's partner representatives.
«This project is a product of a close friendship between Turkey and Azerbaijan. Transit countries have also played a key role. With this project, gas from Azerbaijan will be carried to Europe for the 1st time,» said Erdoğan, adding that close cooperation between Turkey, Azerbaijan and Georgia have brought the Baku-Tbilisi-Ceyhan Oil Pipeline in the past.
Delivering an address at the ceremony, Azerbaijani President İlham Aliyev said, «TANAP is the victory of Turkey and Azerbaijan». President Aliyev highlighted that Turkey and Azerbaijan are co-writing the energy history of the 21st century.
Serbia's Vucic said that TANAP will ensure that the Western Balkans are no longer isolated to big infrastructure projects and will improve the investment climate in the region.
Georgian President Margvelashvili noted that thanks to the TANAP project, gas from Azerbaijan will go to Turkey and then to the EU countries, which will «help the energy security of continental Europe». He also highlighted the importance of Georgia's participation in this project.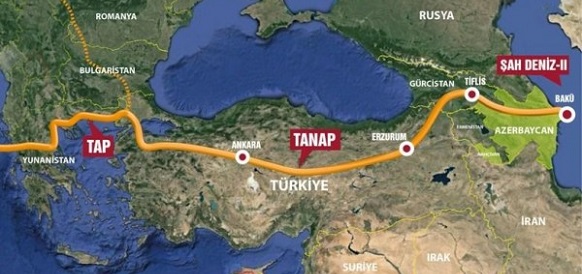 TANAP, with around $8.5 billion of investment, will deliver 6 billion cubic meters per year (bcm/y) of Azeri gas to Turkey and 10 billion bcm to Europe. The European part of the project is expected to become operational in 2020.
The 1,850 kilometer TANAP project aims to transport natural gas produced in Azerbaijan's Shah Deniz-2 gas field in the Caspian Sea and in other fields in the south of the Caspian Sea 1st to Turkey and then to Europe.
In the project, Azerbaijan's SOCAR has a 51 % stake, Turkey's BOTAŞ has 30 %, BP has 12 %, and SOCAR Turkey has 7 %.