Georgia launched on Jul 24, 2017, a tender for the construction of its 1st ever underground gas storage (UGS) unit.
Georgia Oil & Gas Corp. (GOGC) announced it was looking to secure engineering, procurement, installation and commissioning (EPIC) services for the building of a storage facility at the depleted Samgori South Dome oilfield near Tbilisi.
The work includes the drilling of 2 exploration wells that will evaluate the project's scope, along with the completion of 4 monitoring wells.
GOGC is also tendering the installation of a gas treatment and compression station at the site, along with power supply equipment and oil, water and gas pipeline systems.
Construction work is slated to begin in early 2018 with the aim of completing the facility by 2021.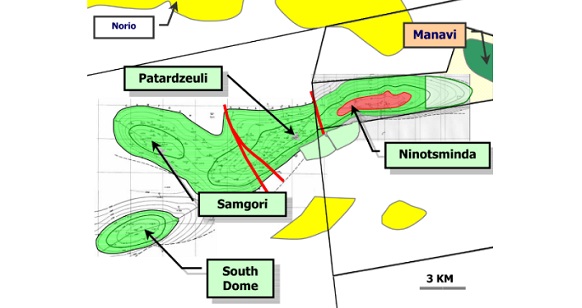 Georgia began drawing up plans for its own UGS facility a decade ago, but the project has only gained traction in recent years, owing to rapid growth in the former Soviet state's demand for gas.
The country mostly relies on imports from Azerbaijan to meet its gas needs, and has sought to limit purchases from Russia for political reasons.
However, because it lacks domestic storage capacity, Georgia has often been forced to secure Russian gas whenever there are production outages at Azerbaijan's Shah Deniz gas field in the Caspian Sea.
During the 1st 2 months of this year, for instance, Tbilisi bought an extra 100 mcm of gas from Russia to cover a shortfall in supplies from Azerbaijan.
A representative of BP, the operator of Shah Deniz, later told NewsBase Intelligence (NBI) that an operational issue at the field's onshore gas terminal had disrupted deliveries to Georgia between 31 January and 2 February.
According to a design drawn up by France's Geostock last year, the Samgora UGS facility will have a capacity of 210-280 mcm of gas, or 10-15% of Georgia's annual gas intake.
The Samgora field is situated just 30 km from Tbilisi and in close proximity to the South Caucasus Pipeline (SCP), which carries gas from Azerbaijan.
Azerbaijan's state-owned energy company, SOCAR, has expressed interest in building the Samgora UGS facility.
Domestic storage space will help Georgia safeguard against outages in supplies from Azerbaijan, thereby reducing the country's need for deliveries from Russia and reinforcing SOCAR's position in the Georgian gas market.
Read in Rassian