Germany's Wintershall - which is set to complete its merger with upstream company DEA by the end of June - plans to expand its projects in Russia, which will remain its core production region post-merger, its CEO Mario Mehren said, Platts reported.
In a statement, Mehren said Wintershall's presence in Russia - which includes its 35% stake in the giant Yuzhno-Russkoye gas field - would make a «significant» contribution to the company's plans to increase output. In 2018, Wintershall produced 171 million boe (470,000 boe/d), an increase of 4.3% on the previous year.
Gazprom-operated Yuzhno-Russkoye has been producing 25 Bcm a year of gas since 2009 and with the development of the Turonian layer is expected to maintain that production level until at least 2022, Wintershall said.
«In 2018 we once again increased production at our Russian projects,» Mehren said. «We want to continue this course after the planned merger [with DEA] and invest in expanding our projects in Russia, which is - and remains - our most important core region,» he said.
Achimov work
Wintershall also has stakes in the Achimov formation of the giant Urengoy field. At Block 1 A of the Achimov formation - in which Wintershall has a 50% stake - drilling is set to be completed by the end of 2019.



«In the future the joint venture with Gazprom will produce around 8 Bcm/year of gas from up to 110 wells,» Wintershall said. The company also has a 25% stake in Achimov blocks 4A and 5A where development is proceeding «according to plan.»
Gazprom has estimated that 15.5 Bcm/year of gas will be produced at plateau level from the blocks. Wintershall also said it had provided almost two thirds of its proposed €950 million financing for the planned 55 Bcm/year Nord Stream 2 gas pipeline from Russia to Germany as at the end of 2018.
It said that more than 800 km (496 miles) of pipes had already been laid out of the total 2,400 km of the 2 -string (1,200 km per string) project.
DEA merger
Meanwhile, the merger with DEA - 1st announced in late 2017 - is on track for completion in the 1st half of this year, Wintershall said. The companies want to increase their combined production by 40% compared with 2017 levels to 800,000 b/d of oil equivalent between 2021 and 2023.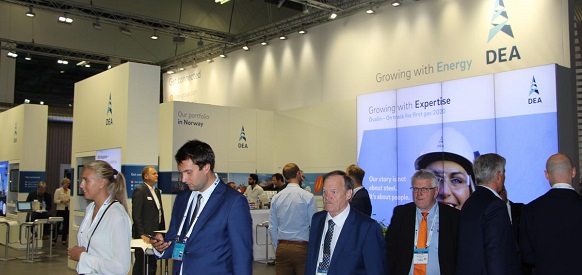 The current portfolio has a bias towards gas as Wintershall has a partnership with Gazprom, while DEA is not active in Russia despite its Russian ownership. «Wintershall DEA will be the largest independent European gas and oil company,» Mehren said.
«We're convinced that it is right and important that Germany also has a powerful gas and oil company - in the same way that many of our neighboring countries also have a major player.» The merged company will also be the 3rd largest producer on the Norwegian Continental Shelf with production of more than 200,000 boe/d in the next few years, Mehren said.
Wintershall is a partner in the major Aasta Hansteen gas field, which came on stream in December 2018. «The field will make a significant contribution to Norway's annual gas production in the coming years and thus to supplying significant energy volumes to Europe,» Mehren said.
Wintershall also wants to continue growth at its assets in Latin America and to move into the production phase at its newly acquired Ghasha concession offshore Abu Dhabi.