Cooperation with the United States on energy security will help Ukrainian efforts to reduce its dependency on Russia, said on September 9, 2017, Valeriy Chaly, the Ukrainian envoy to the United States.
Valeriy Chaly said collaborative efforts with Holtec International, which has headquarters in New Jersey, on nuclear storage objectives were «extremely important» to energy security.
Holtec in August secured approval from the Ukrainian government to start construction on a fuel storage facility at Ukraine's Chernobyl facility, which suffered a catastrophic accident in 1986.
Since then, the plant's remaining reactors have been in a phased decommissioning process.
«The implementation of project will dramatically reduce our dependence on Russia's interim spent nuclear fuel storing services and will save significant funds spent on these needs,» the Ukrainian government stated.
By some estimates, Ukraine pays Russia about $200 million per year for nuclear-related issues.
A national energy strategy outlined by the Ukrainian government in August called for the country to get about half of its electricity needs met by nuclear power, 24 % from hydropower and the rest from thermal-electric power stations by 2035.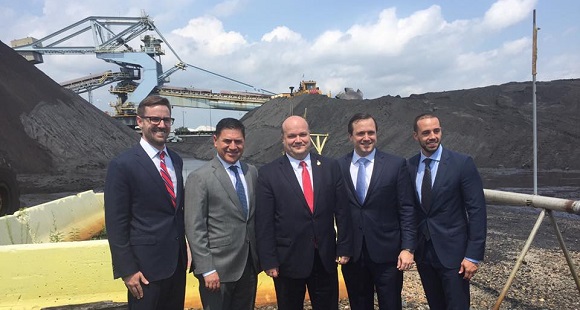 Last month, U.S. Cabinet officials, the U.S. envoy to Ukraine and representatives from XCoal were on hand for the 1st shipment of coal from a Pennsylvania facility to Ukrainian energy company Centrenergo.
U.S. Energy Secretary Rick Perry said coal sent from the United States would serve as a secure and reliable form of energy for Ukrainian consumers.