Ankara, 3 April - Neftegaz.RU. Turkish Daily Sabah reported, that the construction of Turkey's 1st nuclear power station, the Akkuyu Nuclear Power Plant, was launched in a groundbreaking ceremony attended by President Recep Tayyip Erdoğan and his Russian counterpart Vladimir Putin.
In his 1st trip abroad since re-election last month, Putin arrived in Ankara to take part in the ceremony and a summit on Syria the following day. Putin met Erdoğan 8 times in 2017 as relations between their countries improved amid cooperation on energy and Syria, and as Ankara faced headwinds in its relations with the West.
In the ceremony held in the Presidential Palace Complex, Erdoğan said: «When all 4 units are activated, Akkuyu NPP alone will able to provide 10 % of Turkey's electricity needs, bringing our energy portfolio to a healthier level, which is currently largely dependent on oil, gas and coal,» Erdoğan said.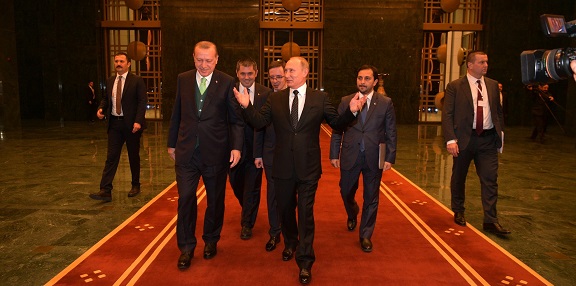 Vladimir Putin stated that successful implementation of the Akkuyu Power Plant project will be a symbol of the dynamic development of Turkish-Russian partnership. «The Akkuyu NPP is a new step to further develop Turkish economy,» Putin said, adding that more than 350 Turkish companies are ready to participate in Akkuyu Power Plant project implementation.
Both presidents watched via video conference the laying of concrete at the $20-billion power plant in southern Turkey, which is supposed to go online in 2023.
The nuclear plant deal is part of wider energy projects with Russia, including the Turkish Stream pipeline, estimated to be worth more than $12 billion, which will deliver Russian gas to both Turkey and southern Europe.
Russia's Rosatom holds a 51 % stake in Akkuyu and is seeking to sell the other 49 %. Prospective Turkish companies pulled out of the project in February.
To read the full story in Russian.