GO-EXPO: Gas and Oil Exposition Opens Doors to 20,000 Attendees Tomorrow
Canada's Largest Energy Event in 2009 Offers Profitable and Sustainable Solutions to Oil & Gas Industry.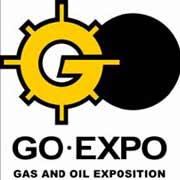 Gas and Oil Exposition (GO-EXPO), Canada's largest energy event of the year, will open its doors at 10:00 a.m. tomorrow at Calgary's Stampede Park. The event, which runs Tuesday, June 9 through to Thursday, June 11, is the industry's prime opportunity to network, explore and discuss the present challenges facing the oil and gas industry. Over 20,000 North American and international delegates and exhibitors are expected to attend. Focusing on the theme 'Control Your Destiny,' event organizer dmg world media, has introduced the debut of the Global Petroleum Conference at GO-EXPO, a two and a half day conference that will kick off with a stellar international plenary session featuring top executives from Kuwait, Mexico, USA and Canada, followed by more than 60 technical presentations. Specialty pavilions include a Health and Safety Pavilion to address critical safety practices in light of recent increases in workplace fatalities; and the Environmental Technologies & Innovations Pavilion where environmental management meets cutting-edge innovation of alternative energy technologies to supplement the oil and gas industry. «GO-EXPO 2009 opens at a crucial time when the industry worldwide faces challenges in minimizing costs, while maximizing effectiveness," said Wes Scott, Event Director for dmg world media. "The greatest innovations come from small inventions. North American companies will be showcasing their expertise in both unconventional and conventional oil and gas, as they lead the way in enterprise for both environment and technology." One of the highlights of GO-EXPO includes the debut speaking engagement in Calgary of His Excellency Qubad Talabani, Kurdistan Regional Government Representative for the United States of America, engaging the audience on Opportunities in Kurdistan Region of Iraq. The Global Petroleum Conference begins at 8:00 a.m. on Tuesday, June 9 and concludes at 11:30 a.m. on Thursday, June 11. Exposition doors open at 10:00 am each day, and include more than 700 North American exhibitors; in-depth seminars such as Oilpatch 101, Heavy Oil 101, Marcellus Shale 101, and International Business Seminars, and renowned industry keynote speakers including Cindy Gray of TMX Group, Steve Edwards of IBM. GO-EXPO 2009 hours of operations are Tuesday, June 9 and Wednesday, June 10 from 10:00 a.m. to 5:00 p.m., and Thursday, June 11 from 10:00 a.m. to 4:00 p.m.