​VEGAPULS 64, the world's first radar level sensor for liquids, operating at a frequency of 80 GHz, has instigated a radical new era in radar level measurement technology.
In 2015, VEGAPULS 69 was introduced with great success. This sensor also operates with a transmission frequency 3 times higher than the widely used 26 GHz frequency. 80 GHz have proven their worth, especially on media with poor reflective properties, in production shafts up to 120 m deep, or in silos with numerous internal installations that generate strong false echoes.
VEGAPULS 64 for liquid applications follows this leap with its high dynamics and superior focusing. Media with poor reflective properties, i.e. low dielectric constant, can now be measured significantly better than with previous radar sensors. Thanks to the vastly better focusing, the beam simply passes by internal tank installations or buildup. Interfering signals, which previously had to be filtered out with false signal suppression, now play hardly any role in the measurement process.
Moreover, it is now possible to use a much smaller antenna. Today there are process fittings with an antenna diameter of only ¾" – equivalent to the size of a 1 euro coin. This technology also allows precise measurement of the level very close to the tank bottom and opens up new perspectives in determining the level in small containers used in the pharmaceutical and biotech industries. The measurement accuracy is +/-2 mm, even with a working range up to 30 m.
We are looking forward to welcoming you at our booth at NEFTEGAZ in Hall 2, Stand 21B04/21C03.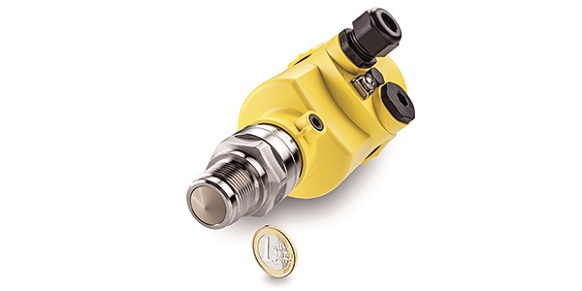 The smallest antenna of the radar level sensor for liquids, VEGAPULS 64, is no bigger than a 1 Euro coin. The new measuring instrument is an ideal solution for installation in small containers.
Radar level sensor VEGAPULS 69 for bulk solids: Reliable level measurement for an extremely wide application spectrum.
More information available at: www.vega.com/en/radar/Liquids