Bluetooth opens up new possibilities for all plics® level and pressure transmitters from VEGA.
Level and pressure instrumentation specialist VEGA brought a Bluetooth solution to the market and was the first sensor manufacturer to do so. The new generation of the universal display and adjustment module PLICSCOM allows all the transmitters in the plics® instrument platform to be remotely operated via an App - easily, conveniently and securely.
By introducing the PLICSCOM, VEGA has further enhanced the concept of the modular instrument platform plics®. Its wireless Bluetooth communication is suitable for all industries and particularly suited for applications in difficult to access locations, harsh industrial environments and hazardous Ex areas. The module is backward compatible which means it can be used on the entire installed base of more than 1.5 million plics® sensors, many in operation since 2002. They are in plants all around the globe – across all measuring principles, with a proven adjustment system, without a software update.
Just download the VEGA Tools App and insert PLICSCOM into the instrument. From a safe distance with a smartphone or tablet, using encrypted communication security, the user can immediately set up and adjust plics® sensors conveniently and safely. Remote display and diagnostic functions are also available.
Those who still want to adjust their plics® sensors on site can use a magnetic pen which allows the contactless operation right through the viewing window of the closed lid. The instruments are thus always well protected, even bad weather conditions and soiling cannot affect them – a major advantage over optical communication methods.
We are looking forward to welcoming you at our booth at Neftegaz-2017 in Hall 2, Stand B04/C03.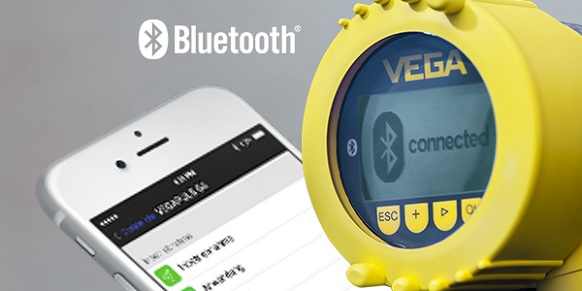 The display and adjustment module PLICSCOM with Bluetooth enables encrypted, wireless setup and adjustment, measured value display and sensor diagnostics via smartphone or tablet.