At Neftegaz-2017 (Stand 21A16), Russia's leading oil and gas industry exhibition, ProMinent will exhibit at Expocentre Fairgrounds in Moscow as part of the German Pavillon. From 17 to 20 April 2017 the Heidelberg-based company will present high-end metering pumps. The hydraulic diaphragm and plunger metering pumps developed and manufactured by the german company meet the most demanding requirements under rugged process conditions. The process metering pumps reliably convey corrosive, toxic and flammable media at high delivery rates even at high pressures and within a large temperature range.
With their robust design Prominent process metering pumps are designed for reliable operation even under the harshest conditions. They effectively meet application requirements in the chemical, petrochemical and process industries as well as oil and gas production industries. In oil and gas industry, these pumps are designed for metering various inhibitors, methanol, drag reducers, additives, catalysts or pigments.
ProMinent will present following process metering pumps at Neftegaz-2017:
Hydraulic diaphragm metering pump Orlita® Evolution 2
The Orlita® Evolution 2 meets the highest safety requirements as an extremely robust hydraulic diaphragm metering pump. It stands out, thanks to its PTFE multi-layer diaphragm with integral diaphragm rupture warning system and unique diaphragm position control.
The Orlita® Evolution hydraulic diaphragm metering pump range form an integrated product range with stroke lengths of 15 to 40 mm. This covers the capacity range of 3 to 7,400 l/h at 400 – 10 bar. A wide range of drive versions is available, including some with ATEX certification for use in Zone 1 or Zone 2 areas at risk from explosion. The Orlita® Evolution product range is designed to comply with API 675.
Plunger metering pump Orlita® DR 15
Plunger metering pumps Orlita® DR 15 are special pumps for high-viscosity media, which can also contain solids. The pumps do not need valves and can be operated within a broad stroke rate range. They are therefore suitable for use with extremely high-viscosity media of up to 106 mPas within a wide temperature range from -40 °C to 400 °C.
Metering fluids highly efficient and application-orientated
At the 17th international exhibition Neftegaz-2017 Moscow from 17 through 20 April 2017 visitors to the German Pavillon will be able to gain an insight into how complex tasks are implemented in highly efficient and application-orientated systems. ProMinent combines comprehensive know-how and extensive experience with all conventional technologies for metering fluids like additives or inhibitors. Users will be able to obtain comprehensive advice on complete solutions geared towards their specific applications.
Video - Process Metering Pump Orlita® Evolution: Design and Technology
Video - Process Metering Pump Orlita® Evolution: Maximum process reliability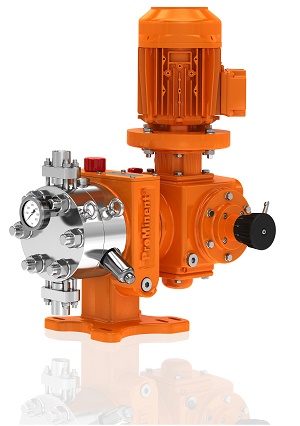 Hydraulic Diaphragm Metering Pump Orlita® Evolution 2 equipped with PTFE multi-layer diaphragm with electrical diaphragm rupture warning system via a contact and integrated hydraulic relief and bleed valve (Photo: ProMinent GmbH)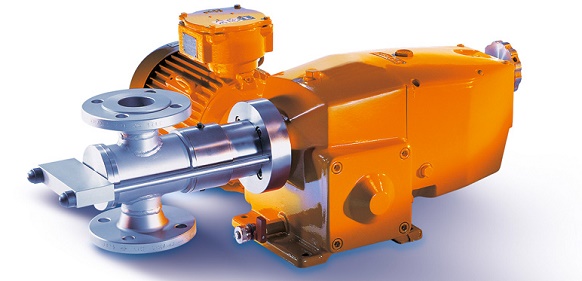 Plunger metering pump Orlita® DR 15 designed in compliance with API 675 among others (Photo: ProMinent GmbH)