SIBUR Holding, a unique integrated gas processing and petrochemicals company, today published its operational and financial results for the three and six months ended 30 June 2013 in accordance with International Financial Reporting Standards (IFRS).
Operational Results
In the first half of 2013, SIBUR's gas processing plants (GPPs), including GPPs operated by OOO Yugragazpererabotka, processed 9.6 billion cubic metres of associated petroleum gas (APG)((1) an increase of 5.4% year-on-year. As a result, production of natural gas(2) rose 4.2% year-on-year to 8.3 billion cubic metres(1). Raw natural gas liquids (raw NGL)(1) increased by 14.6% year-on-year to 2.6 million tonnes.
In the first half of 2013, SIBUR increased sales volumes in majority of its energy products primarily due to higher hydrocarbon feedstock processing. Our natural gas sales volumes increased by 18.4% year-on-year to 6.2 billion cubic metres. External sales of natural gas liquids (NGLs), including liquefied petroleum gases (LPG), naphtha and raw NGL, rose 17.1% year-on-year to 2.3 million tonnes. Sales volumes of petrochemical products totaled 1.1 million tonnes, a decrease of 7.8% year-on-year.
Operational Highlights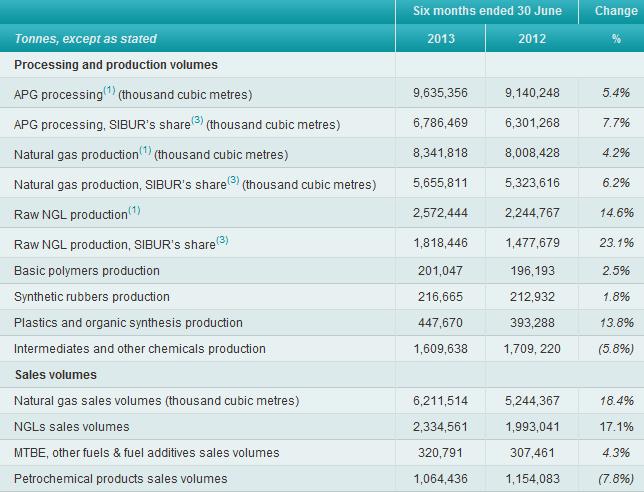 Financial Results
In the first half of 2013, SIBUR's revenue decreased by 5% year-on-year to RR 130 billion. The decrease was largely attributable to three key factors. First, our synthetic rubber business continued to be under significant pressure due to weak demand on our key markets and persisting price correction for majority of synthetic rubber grades. Second, in the first quarter of 2012, we continued trading activities in favour of the mineral fertilisers business, which had been divested at the end of 2011. Revenue from such trading activities, which we reported as "trading and other sales" in the first quarter of 2012, is non-recurring, as these activities were discontinued from the second quarter of 2012. Third, following the deconsolidation of OOO Yugragazpererabotka (our joint venture with RN Holding(4)) as of 12 March 2013, we no longer consolidate the JV's revenue. The above factors were only partially compensated by solid performance of our energy product group on strong volume growth and an increase in revenue from sales of plastics & organic synthesis products thanks to higher production and change in scope through consolidation of the BIAXPLEN group of companies.
Our EBITDA for the first half of 2013 amounted to RR 38,117 million, a year-on-year decline of 10.4%. Our EBITDA margin totaled 29.3%. The year-on-year decrease in EBITDA was primarily attributable to tighter spreads between feedstock and end-product prices, particularly in synthetic rubber product group.
Net profit for the first half of 2013 totaled RR 25,545 million, a decrease of 13.9% year-on-year. The decline was largely attributable to lower EBITDA and the foreign exchange loss on the revaluation of our USD-denominated debt, which was materially higher than a year earlier.
Despite EBITDA declining by 10.4%, our net ash from operating activities went down by 4.8% year-on-year to RR 36,995 million, reflecting a positive effect from working capital changes.
In the first half of 2013, our capital expenditures increased by 11.8% year-on-year to RR 36,044 million. The growth was attributable to the investments in the development of our feedstock processing and transportation infrastructure as well as in our petrochemical projects in line with our strategic objectives.
Financial results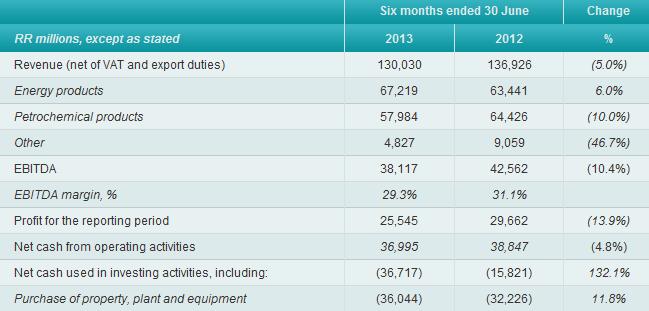 Borrowings
As of 30 June 2013, our total debt amounted to RR 94,409 million, a decrease of 1.7% compared to 31 December 2012. The share of long-term debt in the company's overall credit portfolio increased to 71.3% as of 30 June 2013, compared to 42.8% as of 31 December 2012.
Our net debt(5) totaled RR 90,149 million and our net debt to EBITDA ratio stood at 1.16x as of 30 June 2013, which underscores the company's strong financial position.