The Gazprom headquarters hosted today a working meeting between Alexey Miller, Chairman of the Company's Management Committee and Almazbek Atambayev, President of the Kyrgyz Republic.
The parties discussed the issues of bilateral cooperation deepening in the energy sector.
A focus was placed on the prospects of the joint projects for hydrocarbons exploration and production, energy market development in Kyrgyzstan as well as natural gas transmission and marketing in the Republic.
The meeting participants also discussed the potential participation of Gazprom in privatization of oil and gas facilities of the Kyrgyz Republic, particularly an equity stake in Kyrgyzgaz.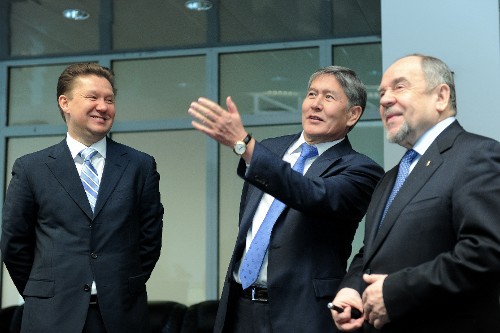 After the meeting, Alexey Miller and Almazbek Atambayev expressed a unanimous opinion that the Russian-Kyrgyz relationship in the energy sector had a great potential for development. The implementation of joint projects in Kyrgyzstan would make a significant contribution to the economic development of the Republic.