Russian gas exports to Asia will increase by the end of the decade from 11.8 billion m3 this year to 44.2 billion m3 by 2020, international business intelligence firm GlobalData predicted.
China, Japan, and South Korea are expected to be Russia's primary export locations by 2020 because of their growing demand for liquefied natural gas (LNG).
Russia
Russia is reevaluating its natural gas export strategy as Europe reacts negatively to its pricing system. The decline in global natural gas prices on the spot market and the rising price of Russian gas has caused European utilities to rethink their traditional import/export agreements with Russia. Europe was the destination of 93% of the country's gas exports last year, but Russia will likely seek Asian export partners if it encounters reduced demand from Europe, the international business intelligence firm said.
Just as Europe wishes to diversify its gas import options, Russia wishes to relax its dependence on European gas purchases, the firm said.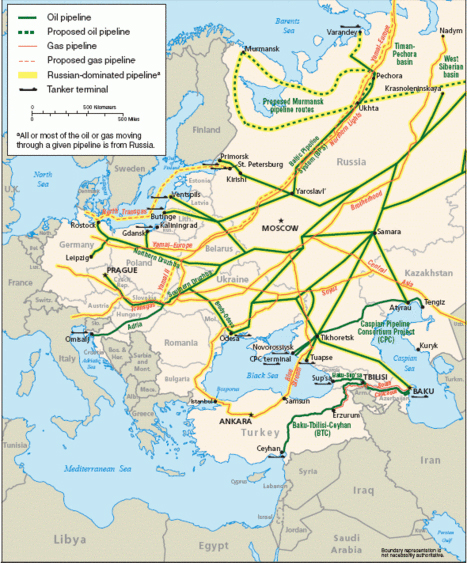 Primary Russian oil and gas pipelines to Europe. Image source: United States Energy Information Administration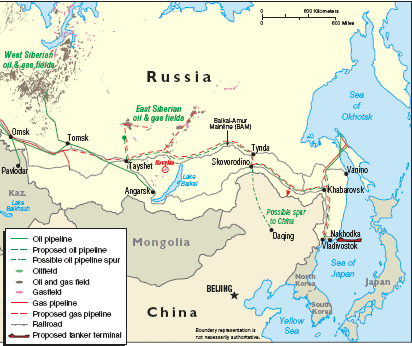 Russian proposed oil and natural gas pipelines to China. Image source: US Energy Information Administration
Gazprom recently renegotiated its prices with some major European utilities and linked 15% of its export volumes to the spot market price in several deals. The Russian gas company has also offered discounts of up to 10% to customers such as Eni, Singergie Italiane, GDF Suez, Wingas, SPP, and EconGas. However, GlobalData said the discounts do not counter Russia's export price increase from USD 244.44 per million m³ in July 2009 to USD 452.16 per million m³ in June of this year. The result has been European firms increasing their imports of LNG from countries in the Middle East and Africa, the report said.
As of last year, Russia's proved reserves were 60 billion bbl of crude oil and 44.8 trillion m3.