10.10.2012 the Board of Directors of JSOC Bashneft has approved reports on the results of the additional issue of securities exchanged for the shares of OJSC Ufimsky Refinery Plant, OJSC Novoil, OJSC Ufaneftekhim, OJSC Bashkirnefteprodukt and OJSC Orenburgnefteprodukt as a part of their consolidation with Bahsneft.
RESULTS OF THE PLACEMENT OF THE ADDITIONAL ISSUE OF JSOC BASHNEFT'S SECURITIES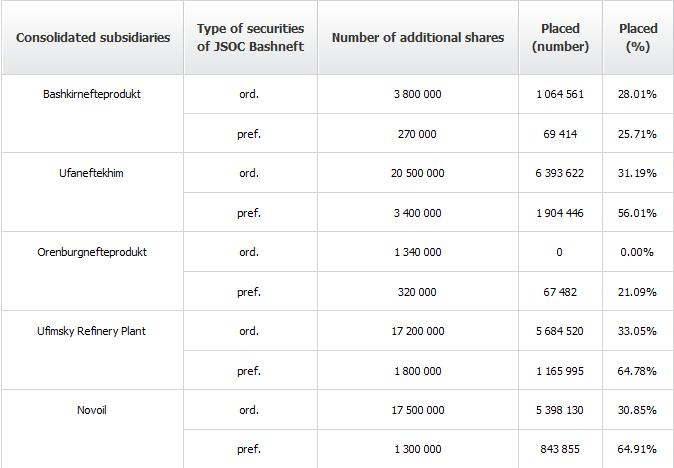 Thus, as a result of placing ordinary and preferred shares of JSOC Bashneft, the Company's authorized capital will grow to 227,384,465 roubles (188,710,587 registered ordinary shares and 38,673,878 registered preferred shares with a par value of 1 rouble).
The Board of Directors has also decided to hold an Extraordinary General Meeting of Shareholders on November 15, 2012 in the form of absentee voting and concluded that the list of the persons entitled to take part in the Meeting should be prepared by October 10, 2012.
The Board of Directors has approved the agenda of the Meeting "On approval of the new version of the Charter of JSOC Bashneft". Thus, some amendments related to the increase in the authorized capital and legal continuity of Bashneft and its consolidated subsidiaries will be introduced to the Charter of JSOC Bashneft.