SIBUR Holding published on February 28, 2018, its operational and financial results for the full year 2017 in accordance with International Financial Reporting Standards (IFRS).
In 2017 SIBUR's gas processing plants (GPPs) processed 22.8 billion cubic metres of APG, an increase of 1.6%(1) year-on-year largely attributable to higher supplies from oil companies and higher capacity load at previously expanded gas processing facilities.
As a result, production of natural gas rose by 1.5% year-on-year to 19.7 billion cubic metres. Raw NGL fractionation volumes increased by 6.7% year-on-year to 8.7 million tonnes following the expansion of fractionation facilities in Tobolsk.
Natural gas sales volumes increased by 1.3% year-on-year to 18.5 billion cubic metres. External LPG sales volumes increased by 4.5% year-on-year to 4.9 million tonnes.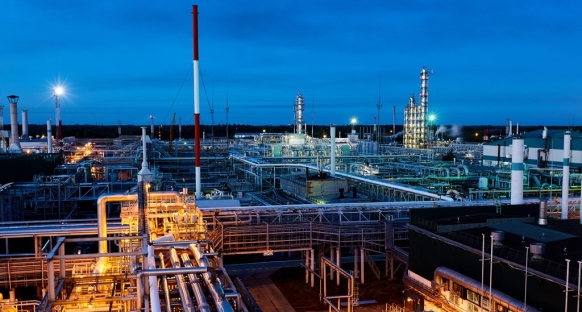 SIBUR´s integrated business model and investments in new production facilities enabled it to counterbalance the shifts in segments' margins and improve SIBUR results with EBITDA up by 15.2% to RR 160,851 million year-on-year and EBITDA margin reaching 35.4%. The revenue increased by 10.4% year-on-year to RUB 454,619 million on increased production and sales volumes, as well as positive price dynamics in LPG and elastomers:
In 2017, the EBITDA of the Feedstock & Energy segment increased by 47.6% year-on-year to RUB 89,351 million. In 2017, SIBUR recorded a 13.1% increase in Adjusted EBITDA, which totaled RUB 168,748 million. This growth was fully driven by the growth in Group's EBITDA.
The net profit in 2017 totaled RUB 120,246 million, a 6.3% growth year-on-year. The increase was primarily a result of growth in operating profit and gain on disposal of Uralorgsintez, which was partially offset by lower net finance income due to high base of 2016 when they observed significant FX fluctuations.
The cash from operating activities increased by 10.9% on the back of increased EBITDA that was significantly offset by increased Income tax paid.
Capital expenditures decreased by 7.0% year-on-year to 135,261 million mostly following the FX fluctuations that resulted in decreased Russian rouble payments for contracts denominated in € and $, as well as a result of substantial advances paid in 2016 ahead of further equipment deliveries for ZapSib project according to contract terms and shifts in payments to come in 2018.
To read the article in Russian.