Moscow, May 29 - Neftegaz.RU. Processing of С3-С5 saturated hydrocarbons contained in broad fraction of light hydrocarbons (BFLH) is playing one of the key roles in petrochemical industry.
Catalytic dehydrogenation process is one of the principal processing methods resulting in the yield of corresponding olefins and dienes (propylene, n-butylene, isobutylene and butadiene), which are also the raw materials for production of synthetic rubbers, motor fuel components (alkylates and MTBE), plastics and other main products.
Total olefin and diene production (excluding propylene) in Russia is above 1,000 thousand per year. A number of catalytic paraffin hydrogenation technologies have been applied throughout the world which differ in principal technology and catalysts used in the process.
About half of the said technologies use a chromia catalyst as an active component. However, in Russia the dehydrogenation process in a fluidized bed of chromia-alumina catalyst is mainly applied.
Despite the disadvantages (attrition loss of catalyst, complicated process control etc.), above process has become a frequent practice in Russia due to the following essential advantages compared to other catalytic dehydrogenation processes:
- vigorous mixing in the fluidized-bed reactors ensures the near isothermal operating regime;
- allows significant intensifying the heat and mass transfer processes in a fluidized bed;
- lower capital and operating expenses compared to other catalytic dehydrogenation processes;
- low cost of the end product.
Currently, the Chemical Engineering Department, Katalizator JSC, has developed asset of technical solutions that enables significantly optimizing the technology and design of internal devices and components of the reactor and regenerator, reducing catalyst consumption and improving the operating process stability. Above technical solutions are covered by 9 development patents in Russia; 12 patents have been applied, including 4 international applications.
The specialists of Katalizator JSC have also developed a new type of dehydrogenation catalyst - АОК-73-24Т - featuring exceptionally high thermal resistance and improved catalyst performance and having no comparable counterparts so far. Isobutylene yield was increased by 3% during dehydrogenation process (Fig.1), both at regeneration temperature of 650 оС, and at increased regeneration temperature of 730 оС; with almost twice reduction of coke formation (Fig.2).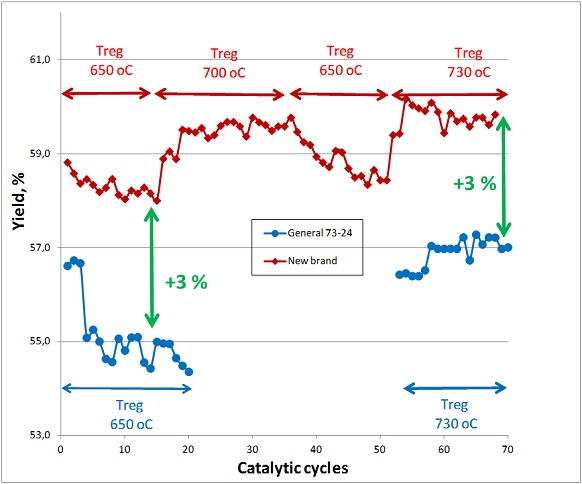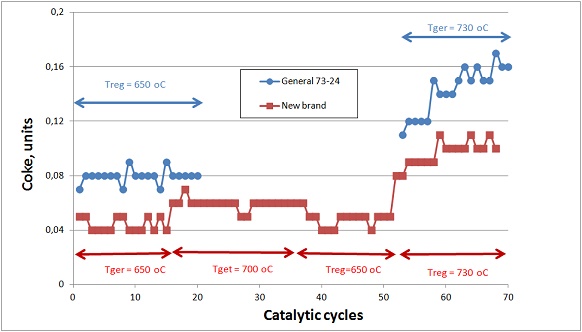 Our company is always ready to provide prompt support and monitoring services for the plant operation and also to help our customers tackle their operational excellence challenges.Manufacturing capabilities of our Company allow us to adjust the catalyst particle size distribution in a wide range, with customized technical features of any plant to ensure the best fluidization performance.
The Department of Chemical Engineering, Katalizator JSC, has at its disposal the unique software and simulation methods for fluidization and distribution of catalyst along the plant grids. Our experts are ready to perform process comprehensive audit of dehydrogenation units and applied catalyst performance for determination of best catalyst performance and process operating conditions.
To read this news in Russian