Moscow, July 5 - Neftegaz.RU. A working meeting between Alexey Miller, CEO of Gazprom, and Tran Sy Thanh, Chairman of the Board of Directors of Vietnam Oil and Gas Group (PetroVietnam), took place on July 4.
The parties discussed a wide range of joint efforts, including geological exploration and hydrocarbon production in Vietnam, as well as the prospects of joint projects in gas-fired power generation, the use of gas as a vehicle fuel, and staff training.
It was noted that the Moc Tinh and Hai Thach fields were expected to produce 2 billion cubic meters of gas (target level) in 2018.
Alexey Miller and Tran Sy Thanh reviewed the progress of the joint project for the construction of a small-scale LNG production complex, which would produce LNG for the NGV market, and a network of CNG filling stations. To date, marketing studies and a feasibility report had been completed for the project.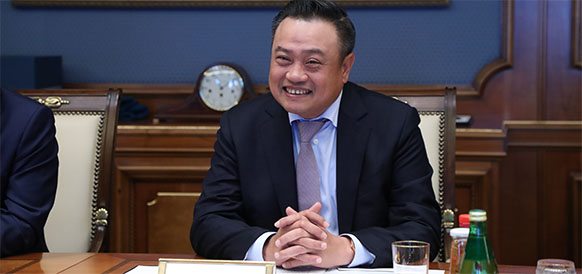 Since 2013, Gazprom International and PetroVietnam have been engaged in commercial gas and condensate production from the Moc Tinh and Hai Thach fields offshore Vietnam.
In 2015, PvGazprom Natural Gas for Vehicles, a joint Russian-Vietnamese company focused on the use of natural gas as a vehicle fuel, was registered. The joint venture consists of Gazprom EP International B.V. (35.5 %), Gazprom Gazomotornoye Toplivo (35.5 %), and Petrovietnam Gas (29 %).