Caracas, August 10- Neftegaz.RU. According to Platts, Venezuela's state oil and gas company PDVSA cut its debt to Russia's top crude producer Rosneft by $400 million in the 2nd quarter to $3.6 billion as of the end of June, Rosneft's 2nd-quarter results presentation showed this week.
Rosneft agreed prepayment deals for crude and products deliveries with Venezuela between 2014 and 2016, the last of which is due to expire at the end of 2020. The company gave Venezuela a total of $6.5 billion in pre-payments, a Rosneft official said earlier this year.
Venezuela's debt to the Russian major thus shrank by $1 billion in the 6 months since the end-2017 figure, according to the presentation.
Rosneft reported in May that Venezuela had paid off $600 million of debt in the Q1. The Russian company also said it reduced crude purchases from the Latin American country in the first 3 months of the year.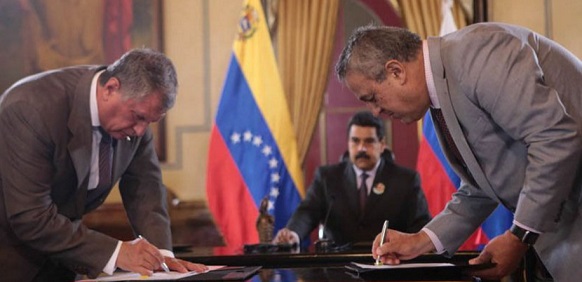 With the Venezuelan economy moving downhill and its oil industry crumbling in recent years, PDVSA told customers earlier this year it was not able to fully meet its supply requirements. Due to provide Rosneft with 222,000 b/d of diluted crude oil, or DCO, PDVSA only had 116,000 b/d available in June, a PDVSA source said earlier.
With economic hardship, Russia and Rosneft have provided extensive economic support to Venezuela and PDVSA in recent years. Late last year, Russia's finance ministry agreed to refinance Venezuela's $3.15 billion loan, extending the payment period to 2026 and introducing more favorable conditions on servicing the loan.
Rosneft also has stakes in upstream projects in Venezuela, including 5 oil projects: Petromonagas, Petrovictoria, Petroperija, Boqueron and Petromiranda, which together account for around 4% of Venezuela's overall production, according to the Russian company.
Crude reserves at the projects are estimated at over 20.5 billion mt. Late last year, Rosneft also agreed to develop 2 offshore gas licenses in the country.