Moscow, November 27 - Neftegaz.RU. Gazprom Neft's Board of Directors has reviewed information on implementing the company's resource-base development strategy.
The current document, approved by the Board of Directors in 2016 and updated in November 2017, clarifies the company's strategy on resource-base development to ensure the company achieves its objectives in line with current industry and global trends - the key priority being to ensure the company has the resources to meet its strategic objective of producing 100 million tonnes of oil equivalent (mtoe) per year by 2020, and of ensuring growth in line with the industry average, thereafter.
Gazprom Neft's key focus in developing its resource base will remain organic growth of existing assets, involvement in developing oil assets owned by Gazprom, bringing unconventional reserves at the Bazhen Formation into commercial development, investigating other unconventional reserves, and proactive geological exploration at new prospecting zones and offshore.
The company drilled 75 exploratory wells in 2017–2018 as part of its organic resource-base development, as well as undertaking 13,000 s.km. of 3D seismic, with a geological prospecting success rate in the order of 90 %.
Gazprom Neft owns the most important discoveries made in Russia in 2017 - the Neptune field, located offshore in the Sea of Okhotsk, and a field in the Khanty-Mansi Autonomous Okrug. The company discovered a 2nd offshore field in the Sea of Okhotsk in 2018, the Triton field, with reserves in place estimated at more than 137 million mtoe.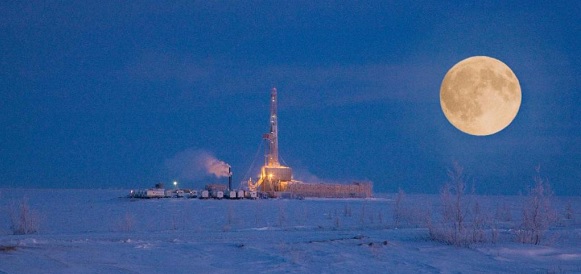 Growth in Gazprom Neft's 2P reserves is this year estimated at 95 mtoe, giving a current reserve replacement ratio of 102 %. The company acquired 13 new license blocks in 2018, including in the Karabashsky zone, in the south of Yamal, in the Krasnoyarsky Krai, and in Orenburg region.
Total potential reserves at these new assets are estimated at 464 mtoe. The main priority is the Leninsky license block in the Gydan Peninsula in the Krasnoyarsky Krai, where Gazprom Neft's in-house specialists estimate reserves could be several times in excess of official figures.
The company is involved in a series of public - private partnerships in its development of unconventional reserves, through which strategic and technological partnerships are being put in place. Gazprom Neft has established the Bazhenov Technology Centre, whose key function is to bring together the scientific, industry and business communities, together with government, in developing viable production technologies for developing the non-traditional hydrocarbon reserves of the Bazhen Formation.
Gazprom Neft is actively involved in the digital transformation of the upstream sector, with 24 digital solutions currently undergoing testing and implementation, as part of which the company has developed the industry's first digital simulation of the Achimovsky strata, investigating its features and characteristics across six of Russia's regions, covering an area of more than 1.5 million s.km, mainly in the Yamalo-Nenets and Khanty-Mansi Autonomous Okrugs.