Moscow, January 22 - Neftegaz.RU. A working meeting between Alexey Miller, CEO of Gazprom, and Masami Iijima, Chairman of the Board of Directors of Mitsui, took place today.
The parties discussed current issues related to bilateral collaboration, including the Sakhalin 2 project. Alexey Miller and Masami Iijima also considered the avenues for further cooperation, paying particular attention to the Baltic LNG project.
A joint design concept (pre-FEED) is currently being developed for the project.  Gazprom and Mitsui are partners in the Sakhalin 2 project, which includes Russia's 1st LNG plant. The Sakhalin 2 operator is Sakhalin Energy Investment Company.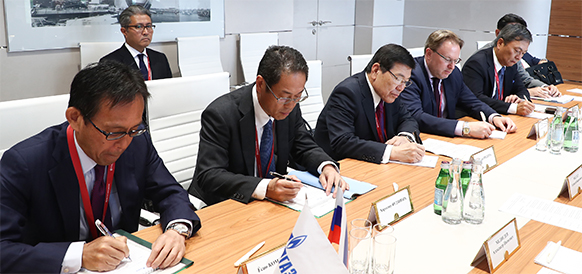 In 2016, Gazprom and Mitsui collaborated in various areas, including Sakhalin 2 project expansion and LNG bunkering. In 2017, Gazprom and Mitsui inked the Framework Agreement for cooperation on small- and mid-scale LNG. In 2018, Gazprom and Mitsui signed the MoU on the Baltic LNG project.