This February marks the 15th anniversary of the start of commercial supplies via the Blue Stream gas pipeline, which conveys gas directly from Russia to Turkey across the Black Sea, Gazprom´s CEO Alexey Miller said on February 28, 2018.
At the moment, Blue Stream accounts for over 50 % of Russian gas exported to Turkey. In 2017, the gas pipeline transmitted a record 15.8 billion cubic meters of gas to the Turkish market. Over the course of 15 years, upward of 158 billion cubic meters of gas was delivered via Blue Stream.
«Gas supplies via Blue Stream have served as a strong catalyst for the Turkish gas market. Prior to the pipeline's launch, as few as 10 of Turkey's 81 provinces had access to natural gas. By now, the number of provinces provided with gas has skyrocketed to 78. Drawing on the successful experience of building and operating Blue Stream, Gazprom is constructing a new gas main stretching across the Black Sea – TurkStream. As the demand for Russian gas in Turkey keeps rising, TurkStream will make gas supplies to our Turkish and European partners even more reliable,« said Alexey Miller.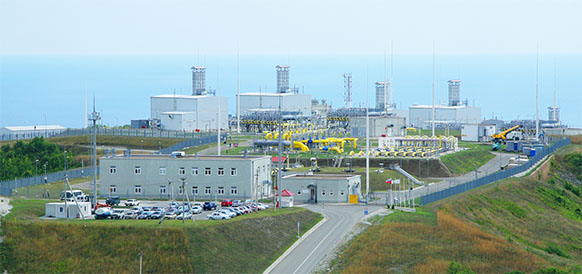 Blue Stream is a gas pipeline with the annual capacity of 16 billion cubic meters from Russia to Turkey across the Black Sea.
Turkey is Gazprom's 2nd-largest export market after Germany. Currently, Russian gas is delivered to Turkey via the Blue Stream gas pipeline and the Trans-Balkan corridor. In 2017, Russian gas supplies to Turkey totaled 29 billion cubic meters, an increase of 4.3 billion cubic meters (+17.3 per cent) against 2016.
To read the article in Russian.