Russian energy minister Alexander Novak has assured the European Commission that Russian natural gas flows to the EU remain secure despite a flare-up in a contractual dispute with Ukraine, the EC said, Platts reported on March 5, 2018.
Novak told the EC that «transit of gas to the EU member states is not endangered and remains reliable,» EC vice president for energy union Maros Sefcovic said in a statement.
Sefcovic had contacted both the Russian and Ukrainian authorities after Ukraine last week warned the EC of a possible emergency situation developing in the Ukrainian gas grid, linked to low pressure Russian gas injections.
Gazprom said last week that it plans to terminate early both transit and supply contracts to Ukraine's gas company Naftogaz after a Stockholm arbitration court ruling on the disputed transit contract favored Naftogaz.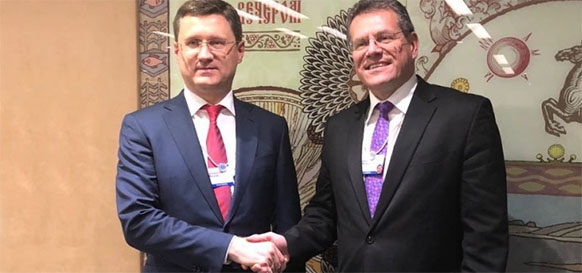 Sefcovic said he had been informed that «this procedure may, however, take some time and will not have immediate consequences on the gas flows» to the EU.
Gazprom sent nearly 94 Bcm through Ukraine to Europe in 2017, a 6-year high driven by strong demand and falling domestic European output. The 10-year transit contract expires at the end of 2019.
Ukrainian supplies under control
Gazprom had earlier last week also returned a pre-payment from Naftogaz for gas volumes requested for March 1, saying it could not restart gas supplies as the terms were not yet agreed.
Naftogaz has told Sefcovic that the gas supply situation in Ukraine is «under control» after the Ukrainian authorities encouraged energy-saving measures and Naftogaz bought extra supplies from Poland.
Naftogaz halted Russian gas imports in November 2015 and has since been relying on imports from Europe and domestic production. But under the Stockholm arbitration court ruling on a disputed supply contract last year, Naftogaz is obliged to buy at least 4 Bcm of Russian gas each year in 2018 and 2019.
Sefcovic said the EC remains ready to mediate between Russia and Ukraine on gas issues, and that both sides had confirmed their readiness to stay in close contact with the EC. «I will follow the situation closely in order to ensure that the transit of Russian gas through Ukraine to the EU - as it remains our priority - is safeguarded at all times,» Sefcovic said.