Ankara, May 11 - Neftegaz.RU. According to the Turkish Daily Sabah, the Trans-Anatolian Natural Gas Pipeline (TANAP) project will enter into service as of June 12, Energy and Natural Resources Minister Berat Albayrak said today.
Speaking at the 11th Sector Meeting of the Electric Distribution Services Association, Albayrak said that TANAP, dubbed as the project of the century, will be launched with an inauguration ceremony with President Recep Tayyip Erdoğan, his Azeri counterpart Ilham Aliyev, other heads of state and ministers in attendance.
Albayrak noted that the Nabucco project has been discussed by European circles but could not go further than talk, and the TANAP project is being finalized with Turkish-Azerbaijani cooperation and through stability, strong leadership and vision.
Turkey will launch its first deep and shallow sea oil and gas drill in the Mediterranean this summer, Albayrak said. The 1st domestic solar panel plant will start production by the end of 2018, while the groundbreaking ceremony for the 1st wind turbine plant will also be held this year, he added.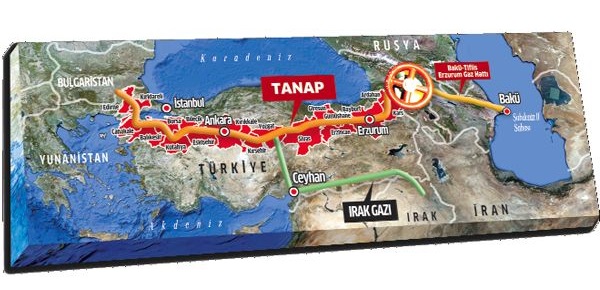 TANAP is the most important part of the SGC, a multinational European Commission project to transfer gas from Azerbaijan's Shah Deniz Gas Field in the Caspian Sea to European markets to reduce the continent's dependency on Russian gas.
Turkey imports some 6.6 billion cubic meters (bcm) of natural gas from Azerbaijan via the Baku-Tbilisi-Erzurum pipeline and the amount will go up to 12.6 bcm as TANAP brings in an additional 6 bcm of natural gas. Therefore, the share of Russian gas in Turkey's energy imports will decrease.
TANAP will initially provide 2 bcm of natural gas before gradually reaching 6 bcm by the end of June 2021.
To read the news in Russian.