A recent published report on global upstream performance showed a significant shift of upstream investments around the globe. Since 2000 global oil and gas companies reduced capital investment in upstream projects by more than 20 percent in the United States of America and by almost 10 percent in Canada. At the same time, Africa, the Middle East, Asia-Pacific, Europe and South & Central America reported double digit increases in their investments.
,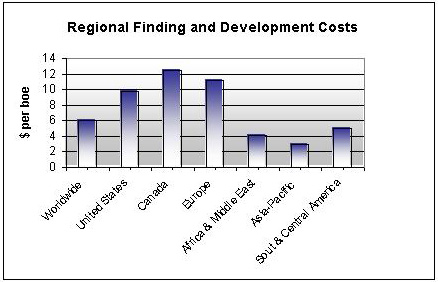 It comes as no surprise that the observed reallocation of capital has coincided with a surge of finding and development (F&D) costs in North America and especially in Canada. There F&D costs increased from $4.76 per boe in 1999 to $11.85 per boe in 2002. The number is alarming compared to F&D costs in Africa and the Middle East, which are $3.33 per boe and 3.31 per boe, respectively or to Europe where the costs are $7.73 per boe.
,As a consequence, exploration has soared in Africa and the Middle East where investments surged 68 percent since 2000 to $8.4 billion. Spending in South & Central America increased 16 percent in 2002, but was down 35 percent from the region?s high of $15 billion achieved in 1999. South America offers good geology and the demand for petroleum products is growing. Therefore, investments should rebound once the region becomes politically and economical more stable.
The attractiveness of certain areas is confirmed by analyzing annual results of companies, active in different regions. Companies which operate in oil and gas basins located in Africa, the Middle East or Asia-Pacific show a superior upstream performance statistics. International or Overseas integrated companies like Exxon Mobile, BP Eni, Total or Lukoil show lower finding and development costs than US or Canadian integrated companies like Conoco Phillips, Marathon Oil or Suncor.
However, the main mean to acquire new reserves will remain mergers and acquisitions. An increasing volume of deals in recent years shows that there are still opportunities to enter attractive regions in Africa or Eurasia. But the whole business has become more competitive. Acquisition costs of a boe remain lower than finding costs in all investigated regions.
But the most successful company will not be the one that will see its reserves growing the fastest but the company that understands to create value. To have low reserve replacement cost does not necessary mean that a company is creating value. There should be a good relation between profit per boe and the reserve replacement cost per boe. Therefore, oil companies are eager to direct capital to regions where reserves can be cheaply discovered, purchased and developed