Strong oil prices pushed oil & gas companies into the majority of the share-price winner spots for the first quarter of 2002. Russian energy companies remained among the leaders, continuing last year?s trend. In the U.S. gas & power sector, many of the companies whose share prices were punished in the wake of the Enron collapse appear to be recovering. When measured against domestic benchmark indices, compared to the S&P 500, which was flat, and the NASDAQ, which was down 5%.
While much of the focus is on U.S.-related issues in the energy business, the tables below illustrate the geographic scope of the energy industry, and in particular the weight of European companies at the top. Three of the large largest oil and gas companies are European, as are three of the largest gas, power & pipeline players, and if the Russian companies wear a European hat in the emerging oils category, three of the five are European as well. Finally, when discussing the geographic scope of the energy sector, the Canadian oil patch can?t be excluded. In the M&A section, the Alberta Energy and PanCanadian merger covered, which is expected to place the first Canadian company?EnCana?into the ranking.
,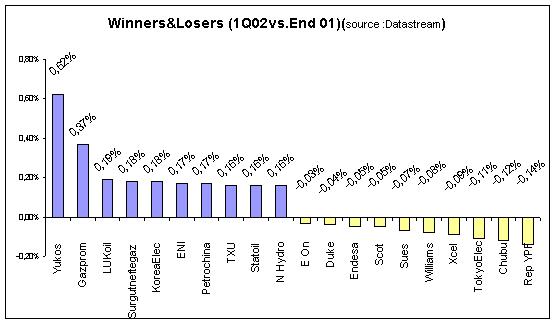 Sustaining their 2001 market momentum, Russian energy companies again posted leading returns in the first quarter of 2002. Strong oil prices and demand for Russian equities, particularly the oils, which are key components of the benchmark Russian RTS index (up 35% for first quarter 2002), kept the Russians in the leadership spots. Non-Russian oils have benefited from higher prices as well, with companies such as PetroChina, Statoil and ENI securing top-ten spots. In addition, the overall energy sector appears to be rebounding: for first quarter 2002, the top ten performers were up 23% on average, and the ten losers were down 8% on average. This compares to the top ten being up 11% on average and the worst ten down 19% on average for first quarter 2001.
The only new entrant to the Performance Finance Co 50 was FirstEnergy. FirstEnergy is an electricity holding company whose portfolio includes Ohio Edison, Toledo Edison, PennPower, and the New Jersey company GPU (which merged with FirstEnergy). FirstEnergy closed the merger with GPU in late 2001, boosting FirstEnergy?s market cap and placing it in the PFC 50. Although not a new entrant, a notable re-entrant was Dynegy, whose suffering from the Enron fallout appears to have subsided, at least for the time being.