India and Russia have been celebrating 70 years of establishment of diplomatic relations. Since the establishment of bilateral relations in April 1947, the Indo-Russia friendship has grown by leaps and bounds. More significantly, the relationship stood by the tests of time and survived despite several tectonic shifts in the arenas of - polity, economy, technology and diplomacy.
By recognizing the significance of the relations, both the countries decided to elevate the Strategic Partnership to the level of a Special and Privileged Strategic Partnership in December 2010, which is a rare distinction in itself.
Since then, the
Indo-Russia
Special and Privileged Strategic Partnership has been trying to explore new areas of cooperation at the bilateral and multilateral level.
Some of the emerging areas of cooperation covered under this partnership are as follows.
Energy Relations
India is dependent on Russia for
her energy needs
. For an energy starving nation like India, Russia´s assistance in setting up Nuclear Power Plants and exploring
hydrocarbon resources
is a big relief.
In the St.Petersburg Declaration released by both the countries in June 2017, New Delhi and Moscow vowed to build an Energy Bridge between both the countries by expanding bilateral relations in all areas of
energy cooperation
, including nuclear, hydrocarbon, hydel and renewable energy sources and in improving energy efficiency.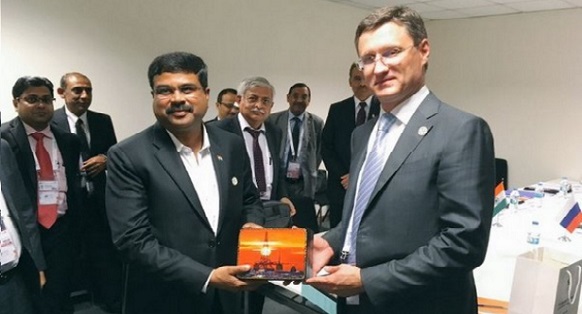 Some of the highlights of cooperation in hydrocarbon sector are:
ONGC Videsh Limited
has substantive investments of over $5 billion in 2 major oil and gas projects - Sakhlin-1 and Imperial Energy Limited (Tomsk).
Besides, Russian companies are engaged in several power plant and oil and gas projects in India.
In October 2016, a MoU was signed on the joint study of a gas pipeline to India and the other possible areas of cooperation. The agreement was inked between Gazprom and Engineers India Limited.
On the same occasion, Rosneft agreed to purchase 98% of the stake in
Essar Oil
for $ 10.9 billion.
Recently, both the countries expressed interest in launching joint projects on exploration and exploitation of hydrocarbons in the Arctic shelf of Russia.
Some of the highlights of cooperation in the nuclear energy sector are:
Russia is Indias important partner in peaceful uses of nuclear energy. It recognizes India as a country with
advanced nuclear technology
with an impeccable non-proliferation record.
Construction of the
Kudankulam Nuclear Power Plant
(KKNPP) Units 1 & 2 (VVER 1000 MW units) is an example of fruitful cooperation between India and Russia, which were operationalised in July 2013 and March 2017 respectively.
Russia also agreed to build 4 other units of the same capacity in Kudankulam and they will be operationalised by 2025.
Multilateral Cooperation
India-Russia bilateral relations have always had strategic connotations to the other players in the region and the world at large.
This is due to the permanent membership of Russia in the UNSC, India;s clout in the community of nations due to its economic strength, peaceful outlook, social diversity and stable and democratic polity.
Some of the highlights of this cooperation are:
India´s membership in the SCO in June 2017 has become a reality due to the persistence of Russia on the matter. The membership helps India in expanding its reach in the
extended neighbourhood
i.e. Central Asia.
Russia is a strong supporter of Indias permanent membership in the United Nations Security Council (UNSC).
The divergence of interests is also visible in the trilateral and multilateral forum such as BRICS, RIC and WTO.
Russia is also a strong advocate of Indias membership in the elite Nuclear Suppliers Group (NSG).
The Geostragetic Quotient in the bilateral relations has also been rising in recent years. Factors like India´s animosity with Pakistan, frequent interruptions in India-China relations, especially due to the One Belt One Road (OBOR) initiative and the China Pakistan Economic Corridor (CPEC) and Russias ambition to have a stake in Afghanistan polity do have a say in India-Russia strategic relations.
Conclusion
The history has proved that India and Russia are natural allies. While, in recent years, the New Delhi has chosen the path of pragmatism for achieving
its foreign policy
objectives, it should also factor in historical and cultural relations that she enjoyed with Russia and the Eurasian Region before building need based alliances.